The School Play, scheduled for November 12th and 13th, has been postponed to November 22nd and 23rd.

The varsity football team's final game of the season will be at home this upcoming Thursday, October 28th against Oxford with a 6:00 kick-off.

Due to the forecast of inclement weather on Wednesday (10/27), the Community Service Day has been postponed to Tuesday (11/2).

Junior High football and volleyball games against Yates Center on Thursday, October 7th have been cancelled due to a COVID outbreak at Yates Center.

Our final set of Sport Parent Meetings will be held on Monday evening at 6:30 at OJSHS. These final two meetings will be for parents of HS and JH Volleyball players.

A quick reminder that tomorrow afternoon is football equipment check-out and concussion video day for both JH and HS - HS at 1:00 and JH at 2:00.
Change in Breakfast and Lunch menu for SVCA for this Thursday, Jan. 21, 2021 Breakfast Breakfast burrito or cereal Juice Milk Lunch PBJ Cheese stick Gold fish Pears Carrots Milk

STREAMING BASKETBALL GAMES: We plan on providing streaming services for all of our JH and HS basketball games. For our home games, this will be provided for both gyms. The streaming links will be available in two locations: 1) In "Events" on both our phone app and website (note this is on the OJSHS building tab) 2) Live feed will also post the links on both Facebook and Twitter (again through the OJSHS option) These services will be provided for all games, home and away. A second gym coverage for away games cannot be guaranteed.
We would like to clear up some misinformation that may be going around. As a district, it is not our intention to close schools. However, as cases of COVID-19 continue to rise, we would be doing your students a disservice if we were not ready for the possibility of having to shift to remote learning. We have asked our teachers to be ready in the case we would have to transition to remote learning. Please know if this happens, it will not be our choice. We are all aware that students learn best in person rather than in a remote situation. This is the same message we have given our teachers since August. We will continue to release information as we have it. As of now, this is all the information we have.

Friday's (10/9) football game with Marmaton Valley has been cancelled due to low numbers on their part. The next home game will be Friday, October 23rd with Cedarvale/Dexter.
CHANGE IN LUNCH MENU FOR TOMORROW Only one choice Chicken Nuggets Roll Tater Smiles Corn Fresh Fruit 2nd Fruit Choice Graham snack
What a great idea for our students.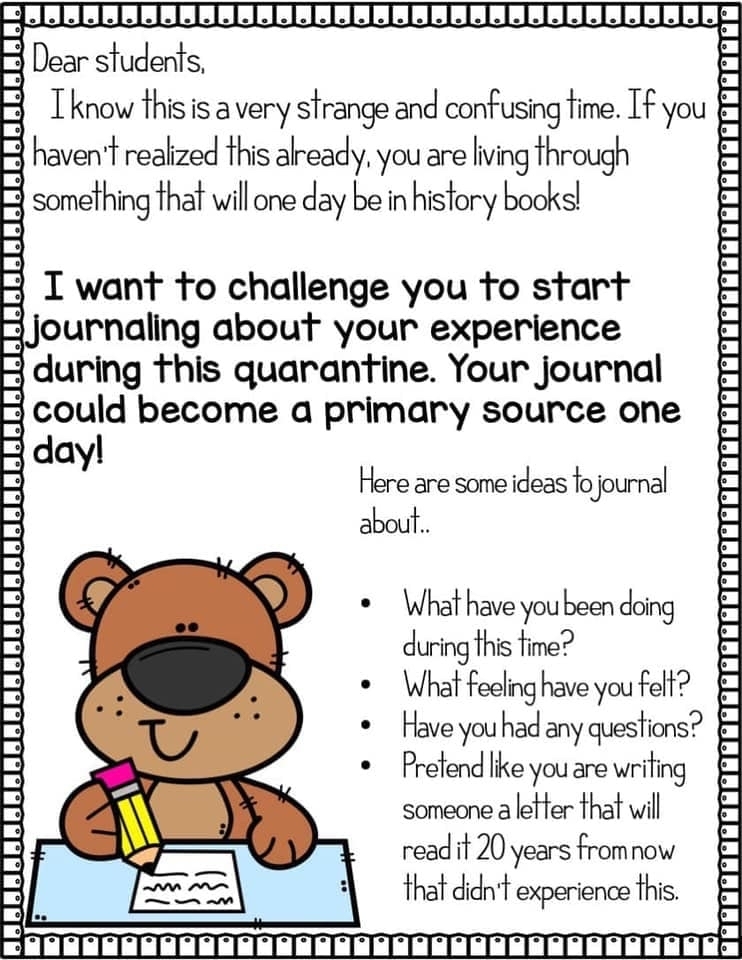 Yesterday, the Kansas State High School Activities Association (KSHSAA) cancelled all spring activities and festivals for the remainder of the 2019-2020 school year. The removal of those items from the school calendar DOES NOT imply that events currently remaining on the calendar have not or will not be cancelled. Many events will need to be cancelled and those cancellations come from different sources. We realize that this is a difficult time for everyone. Please be patient as decisions are made by the many organizations and entities involved.
USD 504 Special Announcement In response to COVID-19 safety measures, Gov. Kelly announced today that all school buildings across the state of Kansas will be closed for the remainder of the 2019-2020 school year. Learning will continue. USD 504 will continue to be closed this week in accordance with the recommendation by Dr. Randy Watson - Kansas Commissioner of Education which was made at the beginning of the week. Spring break will be the week of March 23rd through the 27th. Beginning on Monday, March 30th, small groups of teachers in cooperation with the administration will begin developing a plan to carry learning through the remainder of the school year. It is the intent of USD 504 to finalize the plan and communicate it to parents by April 6th.
Free Grab and Go Meals for ages 1-18 starting Wednesday.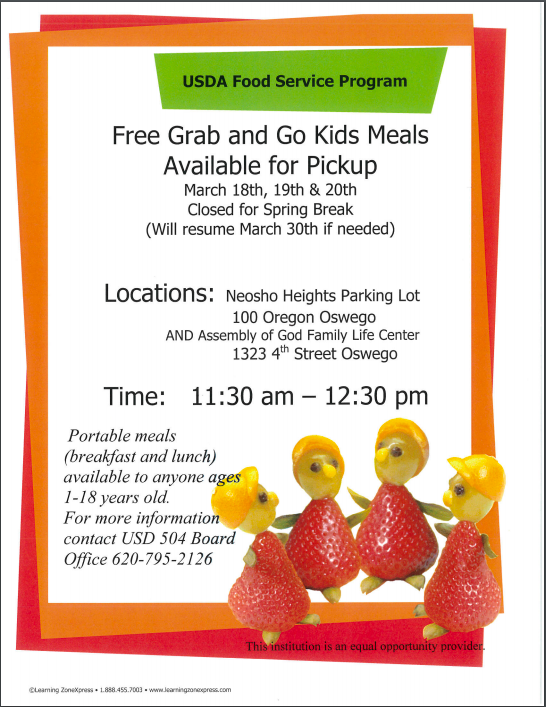 Archery Tournament at Pittsburg this Saturday March 13, 2020 has been cancel.
Pittsburg SEK Qualifier Archery tournament on Saturday, March 14, 2020 is at Pittsburg High School. Elementary flight times are 9:00 and Middle School flight times are at 10:00. There will be a concession stand available. DEPARTURE TIMES Students will need to be at NeHi by 6:30. Students will need to be at SVCA by 6:45. RETURN TIMES SVCA 12:15 NeHi by 12:30.
5th grade students are studying about the American Revolution. After learning about the French and Indian War the students also learned of the unfair taxes handed down to the colonist. The students created No Taxation without Representation posters and marched in front of the school.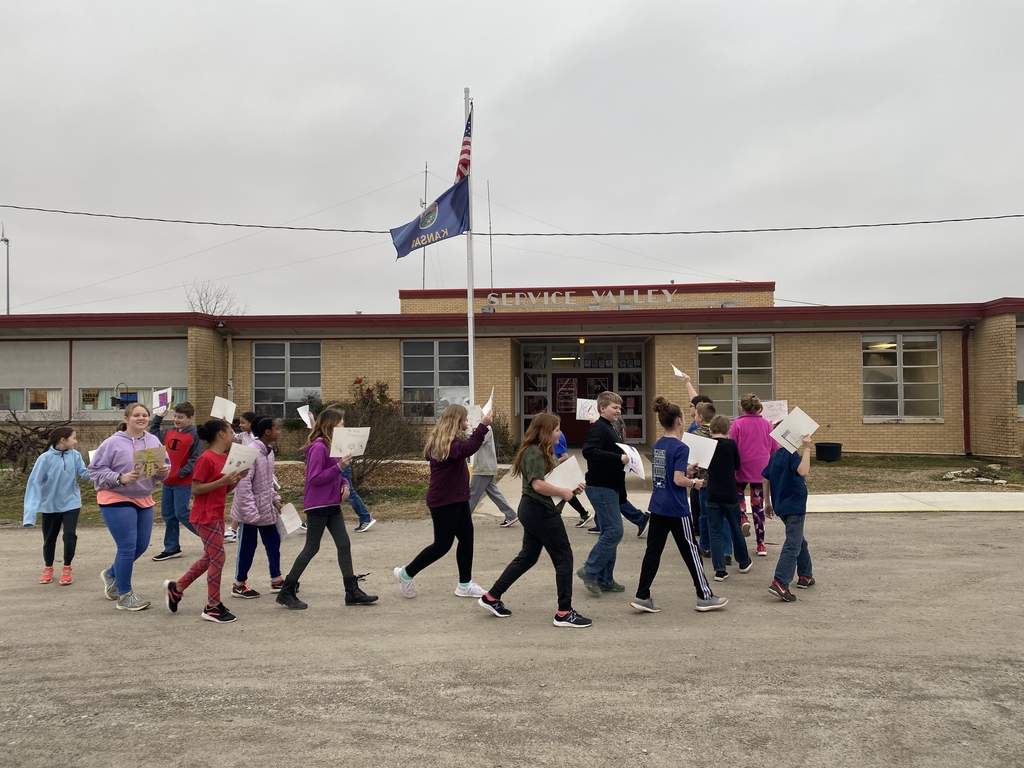 ARCHERY REMINDER $9.00 Registration fee for Pittsburg Qualifier on March 14th was due FRIDAY MARCH 6TH. $15.00 Registration fee for State Tournament on April 4th IS DUE MONDAY 9TH.
NO ARCHERY PRACTICE TONIGHT THURSDAY MARCH 5TH. Mrs. Keller and Mrs. Farris are helping with the scholar bowl meet in Oswego at 4:00.