OJSHS is currently on a lockdown, as is much of Oswego. With 3:30 practices scheduled for volleyball and football, we are advising those involved to NOT come to the school.

Good morning! Open House is tonight at NeHi elementary 6-7pm. Tomorrow is the first day of school for all students! Looking for to seeing everyone! Go Indians!

Good afternoon! The SVCA elementary Open House is tonight at 7 pm. Everyone is welcome! Go Indians!

Good Evening! Enrollment will be tomorrow between 7 am. and 7pm. in grade level buildings. Please bring your household lunch application to enrollment. We are asking all families to do so. We are excited about the start of another great school year. Go Indians!

Good Morning! Mail should be arriving with information regarding enrollment this Thursday along with the first day of school, August 18th: In addition, there are forms for the lunch program . We are asking all families to fill those out and bring them to enrollment. Thanks!

Good Afternoon Indian Nation! I am so glad to be in your midst. It has been great getting to know the people and the places in Oswego. Looking forward to taking in some football camp this week! Proud to be a part of the TRIBE! MS

FREE SPORTS PHYSICALS - Labette Health in Oswego will be giving free sports physicals from 8:00-12:00 in the morning on Wednesday, July 6th and again on Wednesday, August 10th. Physicals are required before participation in practices are permitted as per KSHSAA rules.
Congress did not extend federal school meal waivers and school meals will no longer be available to ALL students free of charge at the start of the 2022-2023 school year. Households may complete an Application for Free or Reduced Price School Meals during the 2022-2023 enrollment process. If you have already received notification that your family is eligible for free or reduced price meals for the 2022-2023 school year, follow the instructions provided. Only students with approved applications will receive free or reduced price meals for the 2022-2023 school year. Families who do not qualify for free meals will be responsible for paying for their child(ren)'s meals at reduced or paid rate.
FREE breakfast and lunch for all children and teens ages 1 - 18. May 19, 2022 thru Jun 16, 2022 @ Neosho Heights Elementary (Closed Memorial Day). Breakfast 8:00 AM - 8:30 AM Lunch 11:30 AM - 12:00 Noon Adult Meals: Breakfast - $2.50, Lunch $4.35 Contact USD 504 for more information: 620-795-2126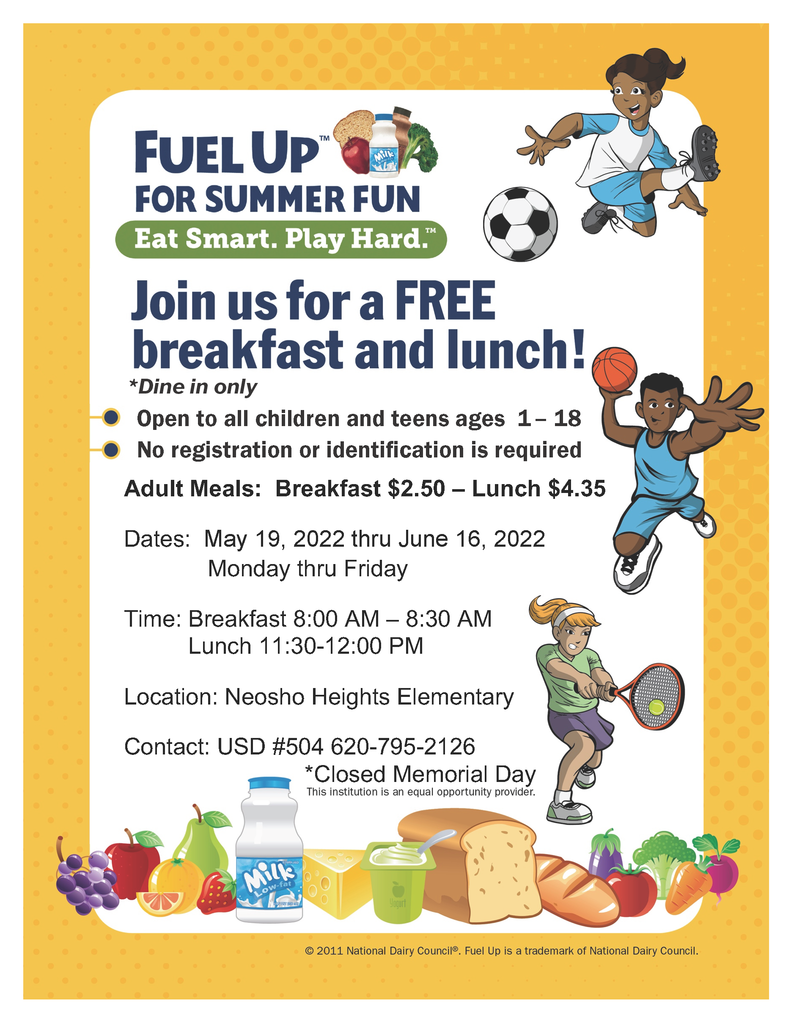 K-12 COVID-19 Testing Parent Survey Your opinion is important. We appreciate your time spent taking this five-minute survey. Your responses will assist us with enhancing, strengthening, and improving the efficiency of programming within your district.
https://forms.gle/5nbSzJHBPYFHbgCZ6

Baseball/Softball games for today, March 31st have been cancelled due to weather. A make-up date has not yet been determined.
On Wednesday, March 23, the Kansas Department of Transportation (KDOT) plans to begin a bridge replacement project which spans Labette Creek on U.S. 59/U.S. 160, 5.69 miles northwest of Oswego. Starting Thursday, March 24, the work zone will be closed to traffic. Please be advised the state route detours on U.S. 160, K-101, U.S. 166, and U.S. 59 could cause delays to USD 504 bus routes. Weather permitting, KDOT expects to complete the work and open the new bridge by year-end.
USD 504 Oswego-Service Valley has 3 storm shelters available in the event of a severe storm or tornado. However, we ask that you please be aware that all 3 shelters are opened by volunteers. When the alerts are broadcasted and sirens sound, the shelters will be open as soon as the volunteers are able to arrive on campus. Our 3 storm shelter locations are available to the public in the event of a severe storm or tornado during nonschool hours of operation. During the school day, the shelters will be full of students and staff. • Neosho Heights Elementary (NeHi): 100 Oregon - Shelter is located on the northwest corner of the building. Look for the neon "OPEN" sign. • Oswego Jr.-Sr. High School (OJSHS): 1501 Tomahawk Trail - Shelter is located on the southwest corner of the building. • Service Valley Charter Academy (SVCA): 21102 Wallace Road - Shelter is located in the library building directly west of the main building.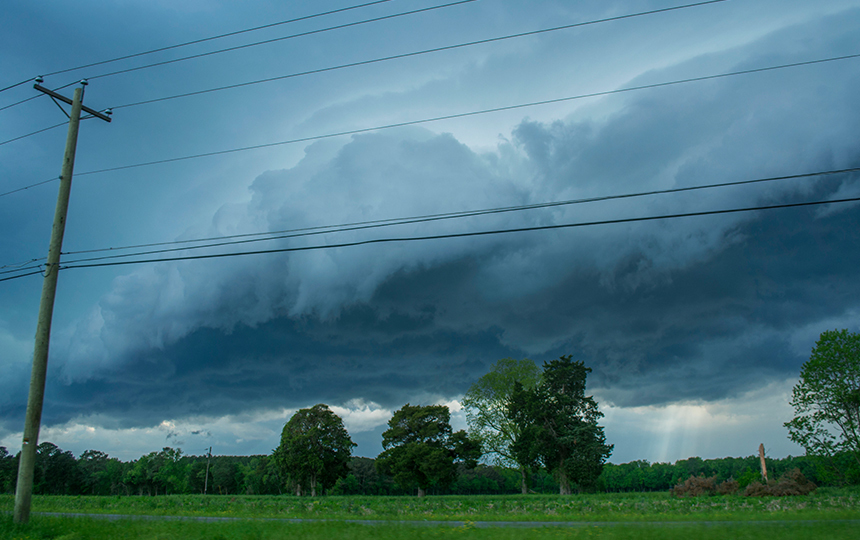 Last week Friday afternoon the CDC (Centers for Disease Control and Prevention) issued updated masking guidelines With respect to masking on school buses, please note the following from the CDC: Effective February 25, 2022, CDC is exercising its enforcement discretion to NOT REQUIRE that people wear masks on buses or vans operated by public or private school systems, including early care and education/child care programs.
https://www.cdc.gov/coronavirus/2019-ncov/travelers/face-masks-public-transportation.html
On behalf of Oswego USD 504, THANK YOU to the school & City of Oswego maintenance crews for getting the sidewalks, driveways, & roads ready for school. Your hard work & efforts make things safer for our students & staff. You are greatly appreciated. THANK YOU!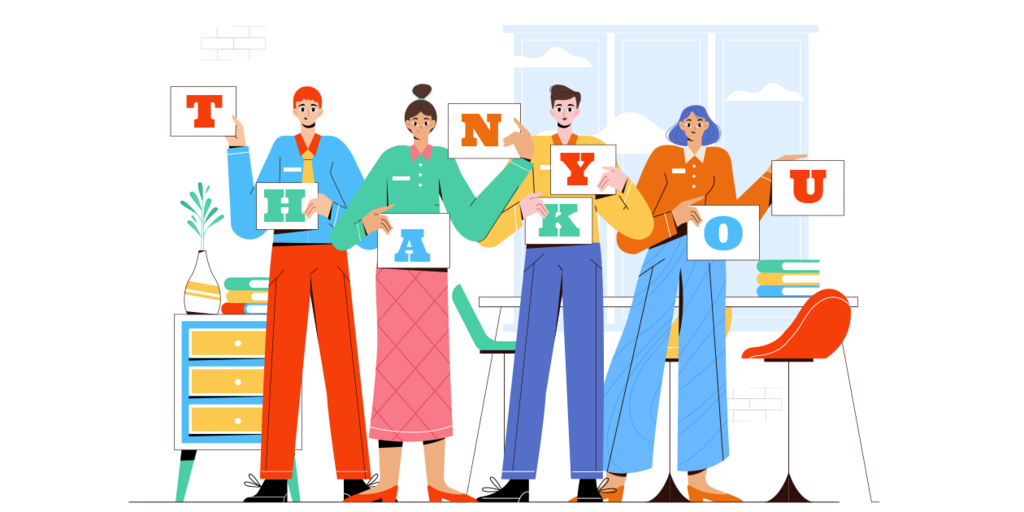 Elementary and Secondary School Emergency Relief III (ESSER III) funds are being provided under the American Rescue Plan (ARP) Act of 2021, Public Law 117-2, enacted on March 11, 2021. The purpose of ESSER III is to address the impact of the COVID-19 pandemic on students by mitigating learning losses, supporting social-emotional needs, and ensuring safe in-person learning for students. We will submit an application for ESSER III funds to the Kansas State Department of Education which must include input from a variety of stakeholders on how best to prioritize use of these funds. Your input will impact how ESSER III funds are spent across the school district. Please take a few minutes to provide your feedback. Thank you in advance for your input, participation, and engagement in this process. The short form can be completed at:
https://forms.gle/cNs21ka1iUjz7GNW8
Due to the snow & ice packed road conditions, Oswego USD 504 School will be closed Thursday, February 24, 2022. Stay warm and safe.
Due to inclement weather conditions, Oswego USD 504 has canceled all after school practices and activities for Wednesday, February 23, 2022.
Oswego USD 504 schools will be closed on Thursday, February 17, 2022 due to dropping temperatures and freezing rain.

The High School will be moving to remote learning from January 20-24th, returning to in-person learning on Tuesday, January 25th due to reaching the 10% threshold of positive COVID cases.