The JV Boys basketball game tonight (12/3) against West Elk has been "moved" to 5:00. They will be playing only 2 quarters with the varsity games to begin as scheduled at 6:00.
The Kansas Association of School Boards in coordination with Oswego USD 504 is conducting an online survey to seek input on desired characteristics of the next superintendent of schools. The survey will take approximately five minutes to complete and can be accessed at the following link:
https://www.surveymonkey.com/r/Oswego504
The survey will close at 11:45 p.m. on Monday, November 29.
Oswego Service Valley Parents • SVCA is currently remote learning through Thursday, November 18th, and will return to in-person classes on Friday, November 19th. • Starting Friday, November 12th, Oswego Junior High grades 6th - 8th will be at home remote learning until they return to class on Monday, November 22nd. • Currently, Neosho Heights grades PK – 5th is continuing in-person learning on campus. These changes were made to provide the safest possible learning environment while the COVID positivity level is above 10%. If you have questions, please contact your student's building principal.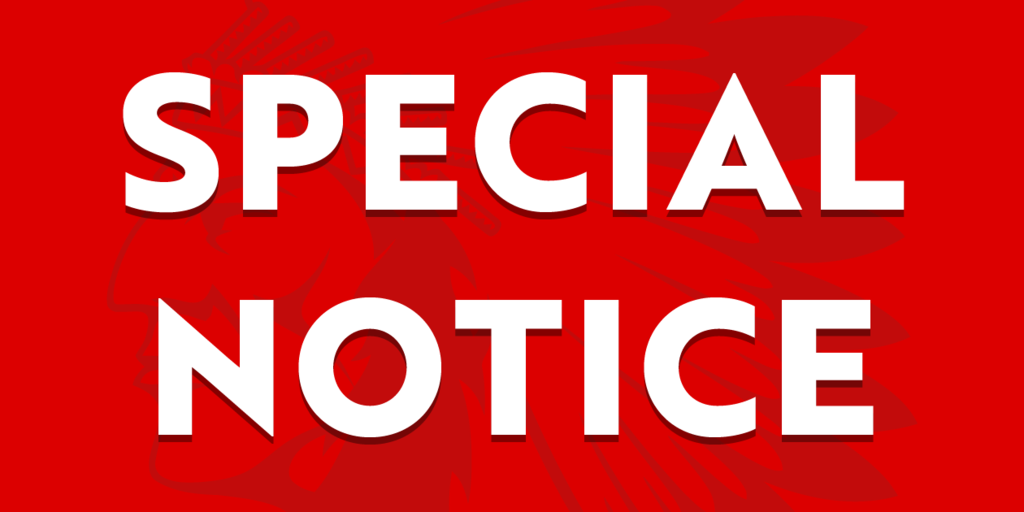 The School Play, scheduled for November 12th and 13th, has been postponed to November 22nd and 23rd.

The varsity football team's final game of the season will be at home this upcoming Thursday, October 28th against Oxford with a 6:00 kick-off.

Due to the forecast of inclement weather on Wednesday (10/27), the Community Service Day has been postponed to Tuesday (11/2).
At the regularly scheduled USD 504 School Board meeting held on October 11, the board voted 4-3 to suspend the mask mandate for the school district. Beginning Tuesday, October 12, 2021, masks will not be required but remain highly recommend. The USD 504 school board will continue to evaluate the district's mask policy monthly. Under the new policy, masks will be voluntary unless the number of positive COVID cases in a school building exceeds 2% of the total population – including students and staff. If the level goes beyond this threshold, only the building with the positive cases above 2% will revert to a mandatory mask policy for all individuals within that building. The mandate will remain in effect for a minimum of 10 days or until the level drops below 2%, whichever is the longest. If you have questions regarding this policy, don't hesitate to contact your student's building principal.

Junior High football and volleyball games against Yates Center on Thursday, October 7th have been cancelled due to a COVID outbreak at Yates Center.
In accordance with Federal civil rights law and U.S. Department of Agriculture (USDA) civil rights regulations and policies, the USDA, its Agencies, offices, and employees, and institutions participating in or administering USDA programs are prohibited from discriminating based on race, color, national origin, sex, disability, age, or reprisal or retaliation for prior civil rights activity in any program or activity conducted or funded by USDA. Persons with disabilities who require alternative means of communication for for program information (e.g. Braille, large print, audiotape, American Sign Language, etc.), should contact the Agency (State or local) where they applied for benefits. Individuals who are deaf, hard of hearing or have speech disabilities may contact USDA through the Federal Relay Service at (800) 877-8339. Additionally, program information may be made available in languages other than English. To file a program complaint of discrimination, complete the USDA Program Discrimination Complaint Form, (AD-3027) found online at:
https://www.usda.gov/oascr/how-to-file-a-program-discrimination-complaint
and at any USDA office, or write a letter addressed to USDA and provide in the letter all of the information requested in the form. To request a copy of the complain form, call (866) 632-9992. Submit your completed form or letter to USDA by: (1) Mail: U.S. Department of Agriculture Office of the Assistant Secretary for Civil Rights 1400 Independence Avenue, SW Washington, D.C. 20250-9410; (2) Fax: (202)690-7742; or (3) Email:
program.intake@usda.gov
This institution is an equal opportunity provider.
Notice: Venue Change for the USD 504 September 13 Board Meeting The regularly scheduled school board meeting on September 13, 2021, will be split into two parts and held in two locations. This split meeting format is because the scheduled budget hearing must be held at the USD 504 board office as published. Following the conclusion of the budget hearing, the meeting will be recessed and moved to the OJSHS commons area, where there is more space to allow for social distancing. The scheduled 2021-2022 School Year budget hearing will start at 7:00 pm, followed by a brief recess, and then resume at the OJSHS commons. If you have questions, please get in touch with the USD 504 board office at 620-795-2126.

Our final set of Sport Parent Meetings will be held on Monday evening at 6:30 at OJSHS. These final two meetings will be for parents of HS and JH Volleyball players.

A quick reminder that tomorrow afternoon is football equipment check-out and concussion video day for both JH and HS - HS at 1:00 and JH at 2:00.
August 9, 2021 Greetings, Oswego-Service Valley USD 504 Families: Thank you for your continued support of the health and safety of our students and staff as we continue our planning to provide safe in-person learning for the 2021-2022 school year. We need to share with you today some recent clarification that we received from the Kansas State Department of Education (KSDE) which will require our compliance and adherence to an existing Order from the Centers for Disease Control and Prevention (CDC) and the United States Department of Health and Human Services (HHS). This Order applies to all students who will be riding a school bus and requires that all students and all drivers wear masks over the mouth and nose while on the bus and while waiting indoors for the bus, which is known as a "transportation hub® in the CDC / HHS order. The key term in the CDC/HHS Order that makes the masking requirement applicable to our school buses is the term "conveyances," which will not only include school buses but will also apply to other forms of school district-provided transportation such as activity buses, vans, SUVs, and/or cars. We will ensure that our drivers have extra masks available should your child(ren) be without one. We appreciate your time in reviewing this information and your patience and understanding with continually evolving circumstances that require our compliance and adherence. Please know we will share any updates with you about this existing Order as we learn about them. Sincerely, Douglas Beisel Superintendent
Be sure to check our school website to stay on top of Summer Activities Dates and Times. JH and HS Volleyball will begin Tuesday (6/1). Summer Weights begin Monday (6/7).
Join us for a FREE breakfast and lunch! Open to all children and teens ages 1 - 18. No registration or identification is required. This program is dine in only - no "Grab and Go" lunches. Adult Meals: Breakfast $2.50 – Lunch $4.35 Dates: May 24, 2021 thru June 18, 2021 Monday thru Friday Time: Breakfast 8:00 AM – 8:30 AM Lunch 11:30-12:00 PM Location: Neosho Heights Elementary Contact: USD #504 620-795-2126 *Closed Memorial Day
At approximately 1:00 pm this afternoon, April 22, the fire alarm at Oswego Junior-Senior High School sounded due to some maintenance work on the HVAC system. The alarm activated from the presence of smoke produced during the maintenance work. No fire was present, nor was also anyone injured. USD 504 conducts multiple drills throughout the school year for readiness in the event of fire, tornado, or crisis. All systems are back to their normal operational status.
Parent/teacher conferences scheduled for March 17th & 18th will once again be conducted via Zoom meeting as they were in the fall of this school year. In the upcoming days, please look for scheduling information to come from your child's teacher or building correspondence.
Oswego USD#504 schools will be closed on Monday, February 15 due to inclement weather.

STREAMING BASKETBALL GAMES: We plan on providing streaming services for all of our JH and HS basketball games. For our home games, this will be provided for both gyms. The streaming links will be available in two locations: 1) In "Events" on both our phone app and website (note this is on the OJSHS building tab) 2) Live feed will also post the links on both Facebook and Twitter (again through the OJSHS option) These services will be provided for all games, home and away. A second gym coverage for away games cannot be guaranteed.
Game Information for Varsity Football on Thursday (10/29): This is a KSHSAA Post-Season event so masks are MANDATORY at all times throughout the entire event. Gate Admission: $6 Adults, $5 Students Start Time is 7:00PM Come out and Support our Indians!!!!!!!!